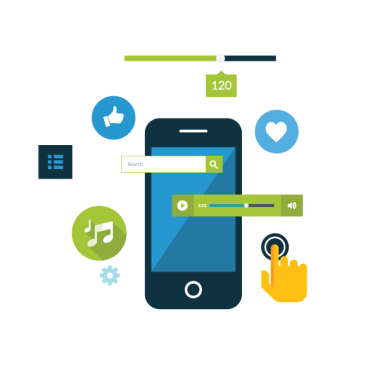 Mobile Marketing Is The Future
There are always new opportunities in mobile marketing for any type of business.
As you may have heard, the number of people who use smartphones vastly outnumbers the people who use regular PCs. The mobile marketing industry has exploded in the past several years. If you're looking to tap this resource and get in front of your chosen audience, you've come to the right place.
While offering a range of advertising opportunities, mobile marketing doesn't have to be a mystery or something difficult to understand. It can be as simple as creating a website that is mobile friendly so it shows up on the user's phone. Or it can be more challenging, like making sure your banner AD pops up in someone's app.
As experts who have trained heavily in mobile marketing, we're ready to help you meet your business goals. Whether you need a mobile friendly website, advertising space in an app, a QR code, SMS text messaging or more; we're your #1 choice for mobile marketing services all over the world.
41%
Post Engagement Rate Increase
21%
Page Engagement Rate Increase
Tell us about your mobile marketing needs
Let The Search Specialists help you get in front of your audience with the many options within mobile marketing.
Contact us today and we'll create a custom mobile strategy for your business to fit your budget.
"We've looked at a lot of SEO solutions but these guys were always the clear favorite. Our phones never stop ringing and all of our business now come from online."
Kathy C.
Owner - Five Diamond Cleaning
"They SEO'd my eCommerce site and it changed everything. Now I'm being found in the search engines everyday like never before. Definitely recommend!" "This incredible team managed to not only get us top positions on Google for all of our top keywords, but they kept us there, as well! I would highly recommend this company to anyone." Gabriel Townsend
Quality Realty Service