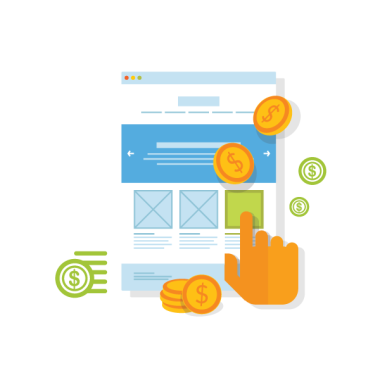 Pay Per Click (PPC) Management
Pay Per Click has an instant impact and gives your brand a much larger reach and exposure as a result of first page exposure on major search engines.
Commonly, businesses utilize Pay Per Click (PPC) in their overall marketing strategy. We can provide up-to-date pay per click or pay per impression services that include: Paid Search Ads, Video Advertising, Display Ads, PPC Remarketing and more.
The Search Specialists can help our clients create brand new advertising campaigns, or test and improve existing ones. The goal with PPC advertising is to spend as little as possible to achieve conversions.
Our experience and results speak for themselves. Each campaign is tailored to your business's specific needs. Looking for more brand exposure? More traffic? Phone calls? We handle it all with our PPC management services.
Paid Search Advertising
Earn a positive ROI through our PPC search advertising. Spend money wisely and use the most targeted and cost effective form of advertising.
PPC Remarketing
PPC Remarketing will re-target ADs to anybody who previously visits your website. They could be a customer who is just ready to buy but hasn't yet, or an existing customer you want to sell more to. We will create a strategy based on your needs.
Social Advertising
Advertising socially on platforms like Facebook and Pinterest can really spread awareness about your brand, products or services. We'll custom develop a social paid advertising strategy aimed to convert customers.
Video Advertising
Video advertising on the most popular platforms like YouTube is another great way to get your message out there. Targeting can be as precise as age, location, interests and other demographics. Videos convert customers!
The Search Specialists has the experience to create PPC ads on Google AdWords, Bing, Facebook, Youtube and more. Start today!
17
Video Advertising Projects
141
Display Advertising Campaign
98
Successful PPC Remarketings
315
Social Advertising Projects
Tell us about your PPC project
Let us help manage your next pay per click campaign.
Contact us today and let's get your PPC marketing started. Any type of business, any location, any niche, any budget. 
"We've looked at a lot of SEO solutions but these guys were always the clear favorite. Our phones never stop ringing and all of our business now come from online."
Kathy C.
Owner - Five Diamond Cleaning
"They SEO'd my eCommerce site and it changed everything. Now I'm being found in the search engines everyday like never before. Definitely recommend!" "This incredible team managed to not only get us top positions on Google for all of our top keywords, but they kept us there, as well! I would highly recommend this company to anyone." Gabriel Townsend
Quality Realty Service