Case Studies
📈SEO Case Studies & Testimonials!📈
Hi! I'm Jonathan, Founder of The Search Specialists. Right here you will find real case studies from real clients.
Quick Case Studies
The rows show the keywords which we are tracking for the client.
The 5 columns on the right are the daily rank tracking numbers.
Numbers 1 – 10 indicate Page 1 rankings.
The "map pin" indicates that those listings are appearing in the Google My Business map pack on Page 1 of Google.
Click or tap on the images to enlarge.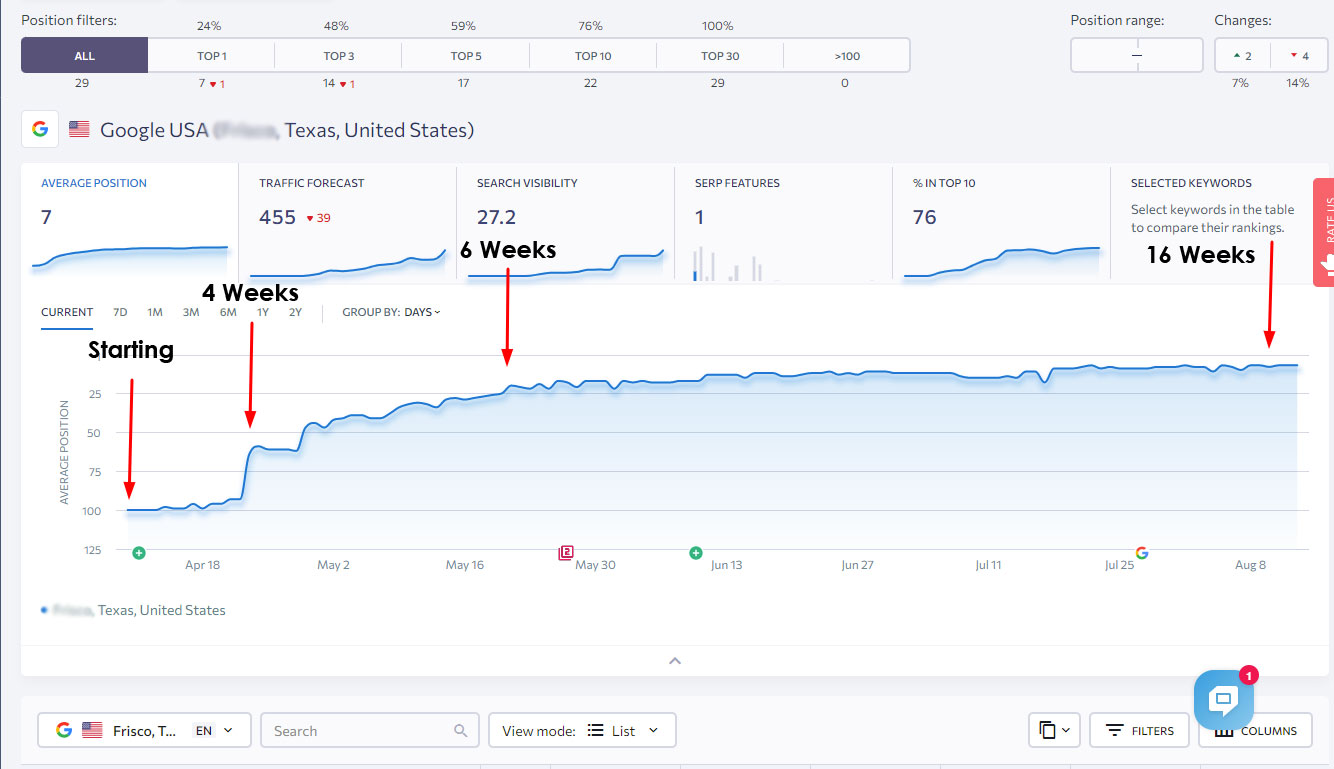 ☝️ Chiropractor in Texas –  Using our Accelerated Google Maps Program. Results in 16 weeks. From 0 calls to 40+ per month. Went from 2 new patients to 20 new patients per week. Page 1 in Google for 25+ keywords.  ☎ 📈📈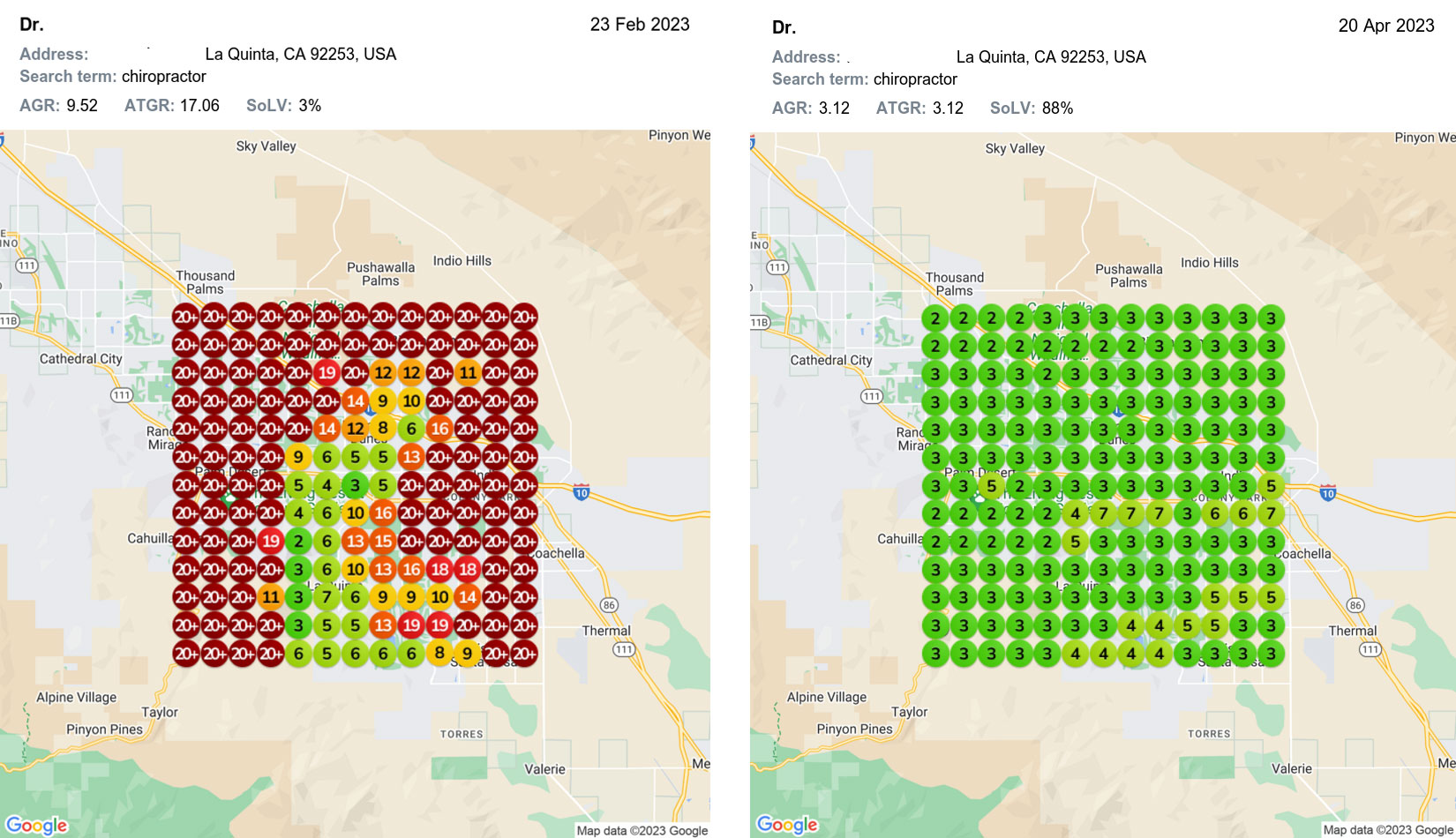 ☝️ Chiropractor in California –  Using our Accelerated Google Maps Program. Results in 12 weeks. Their practice was not being found in the Google Maps (very lucrative online real estate). The client went from not being found except when a potential patient was within a block of their office. Now they're found all over the area and had to hire another full time receptionist.  ☎ 📈📈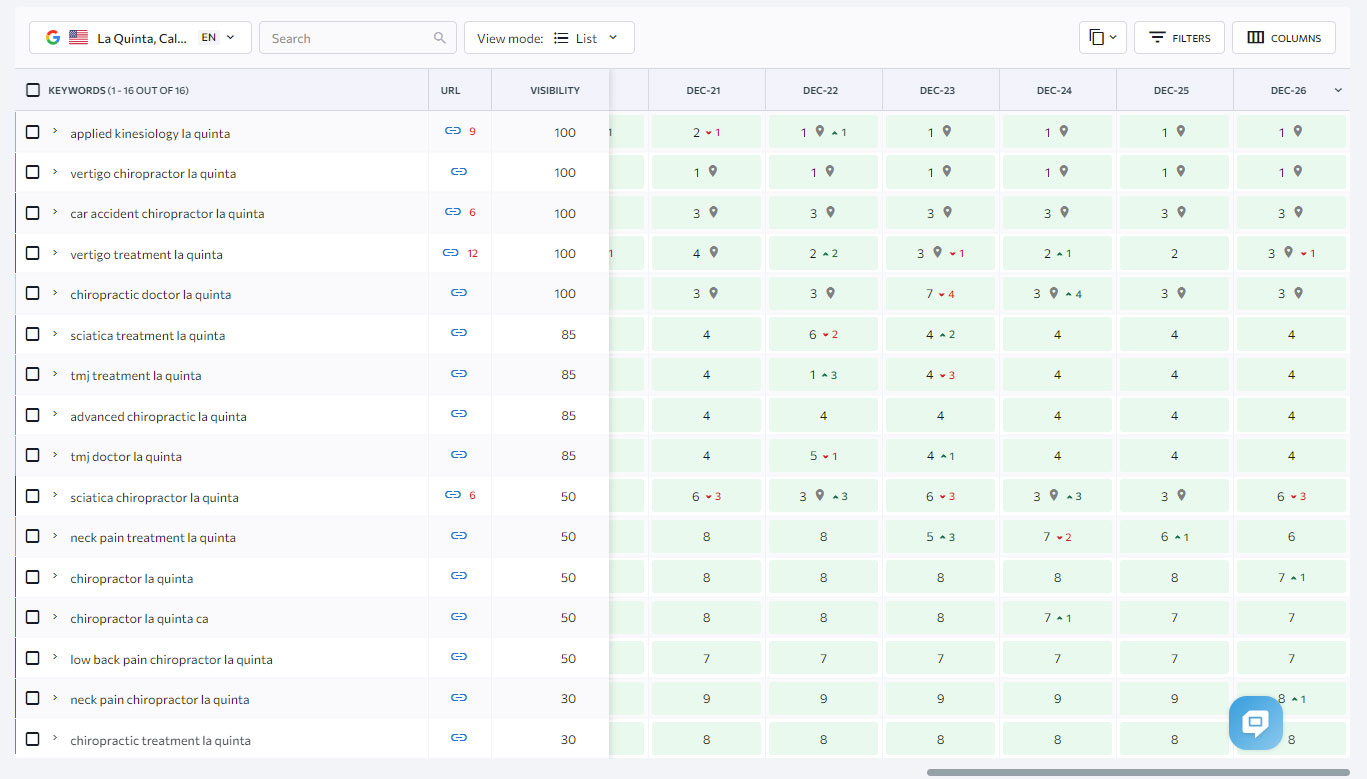 ☝️ Chiropractor In La Quinta – Page 1 of Google for over 16 keywords such as "neck pain", "low back pain", "sciatica", "tmj", "car accident", "chiropractor" and  more. They are ranking all around their city for the major searched Chiropractor keywords.  ​​⚕️​👩‍⚕️️​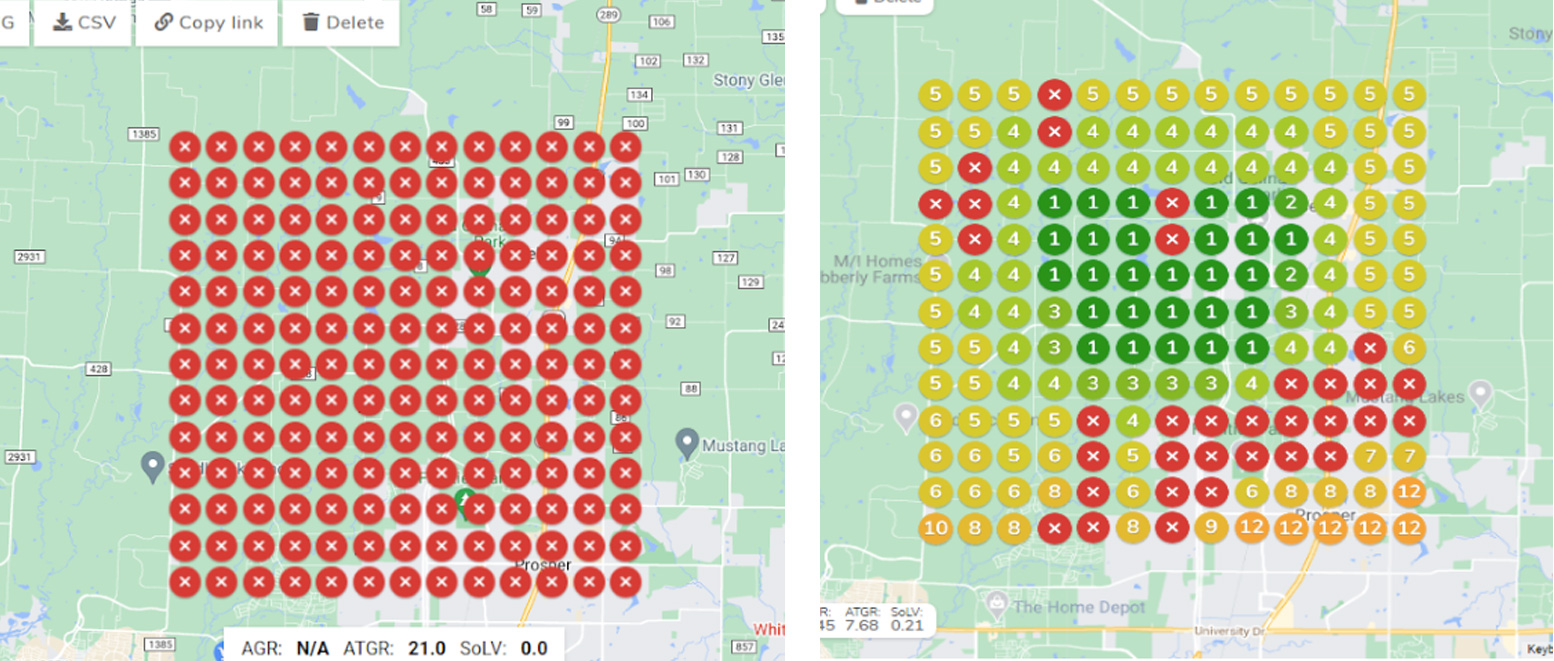 ☝️ Chiropractic Office In Texas – This was a beginning and almost brand new practice. They were showing up nowhere in their area and now they're getting Google referrals on a daily basis. Went from 0 calls to 30 calls per month with no work on their part. They just answer the phone and schedule in patients.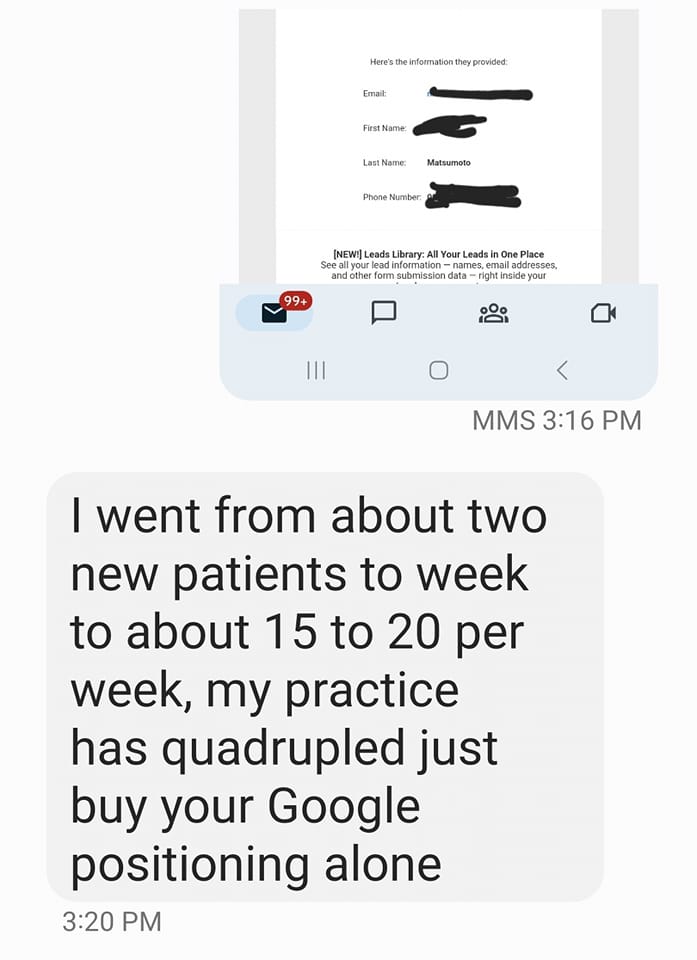 ☝️ We 10X'd this doctor's inbound patient calls and leads just from changing his geo-grids from red to green. 📈📈👨‍⚕️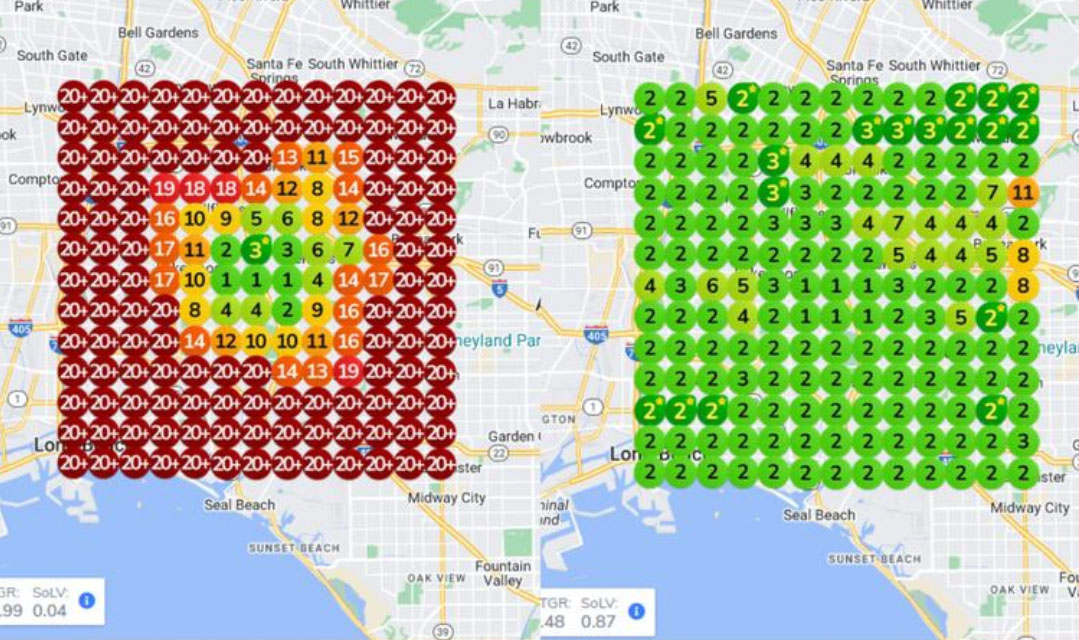 ☝️ Drug and Alcohol Treatment Center in The Los Angeles Area. This client went from not being found anywhere in Google Maps to being on Page 1 for a large area. Patient beds filled every month. Revenue skyrocketed to another level.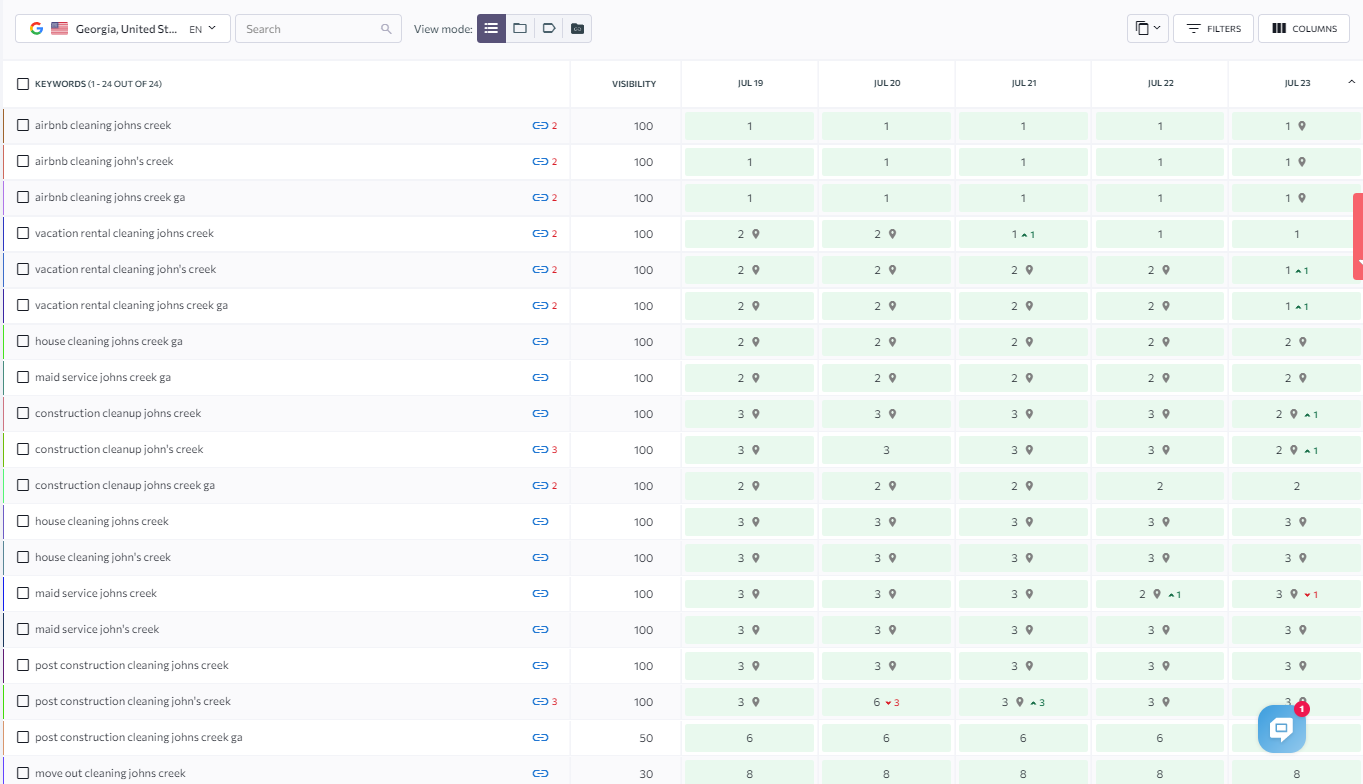 Cleaning company in the Atlanta, Georgia, USA area – Page 1 for 21 keywords in Google. This one is completely dominating the area for keywords like "house cleaning", "post construction cleaning", "maid service", "vacation rental cleaning" and more. This client went from zero Google presence to having the phone ring off of the hook. 🧹🧼🧽🚽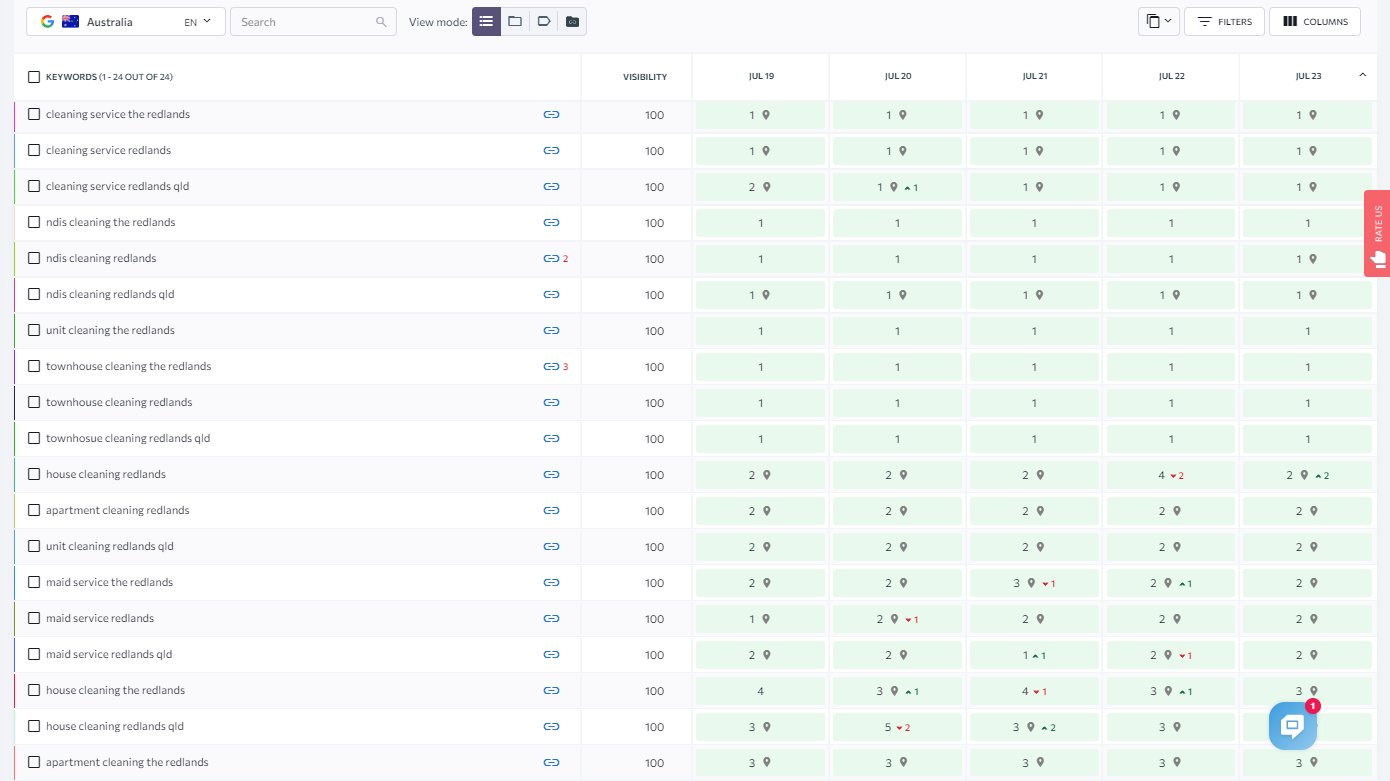 Cleaning Company near Brisbane, Australia – Page 1 for 21 keywords in Google. Top money making keywords including lucrative "cleaning service", "house cleaning" and "maid service" keywords. 🧹🧼🧽🚽🇦🇺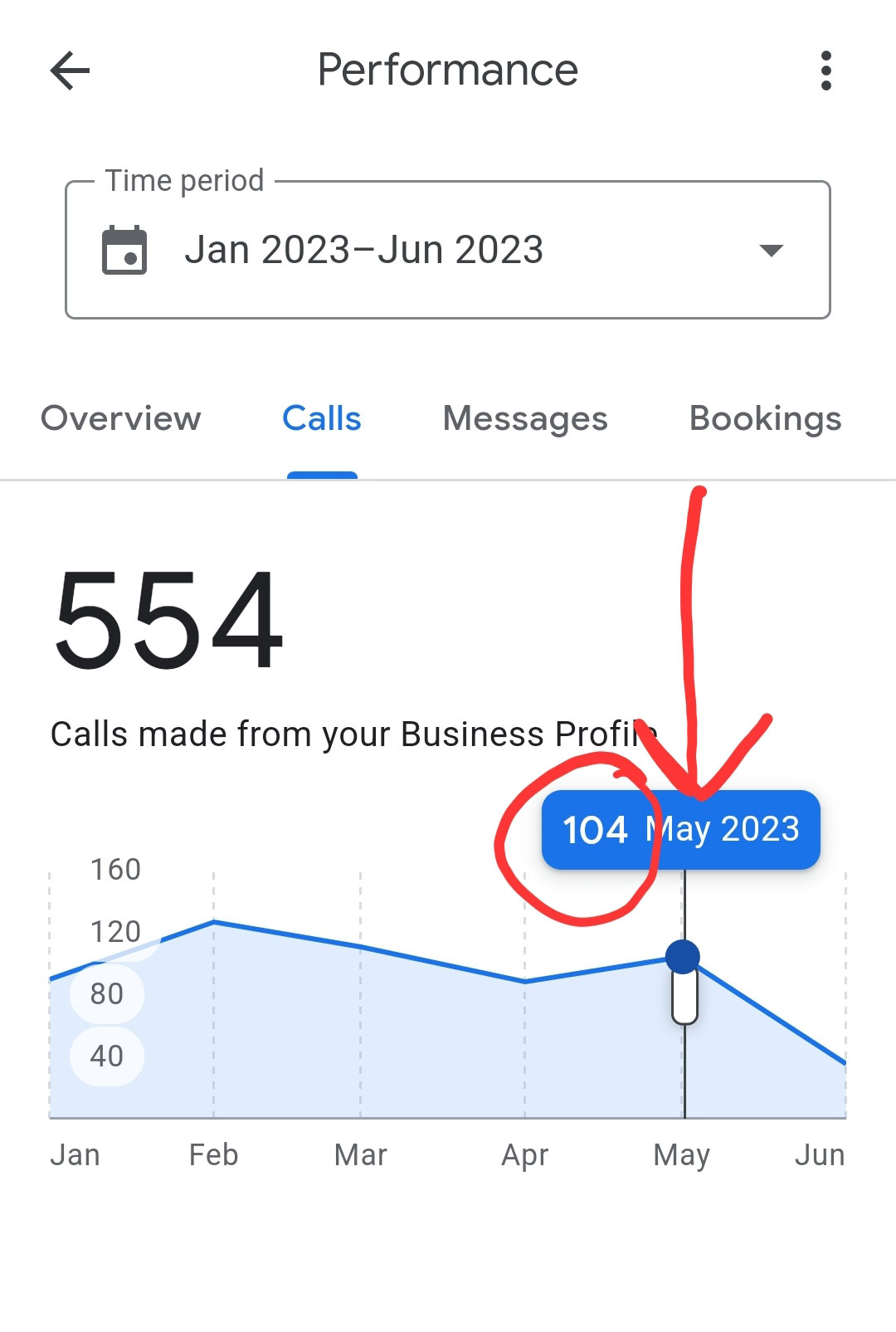 ☝️ Local Chiropractor calls to their Google Business Profile (Google Maps Listing) for the month of May 2023. 104! 10X'd their weekly patients.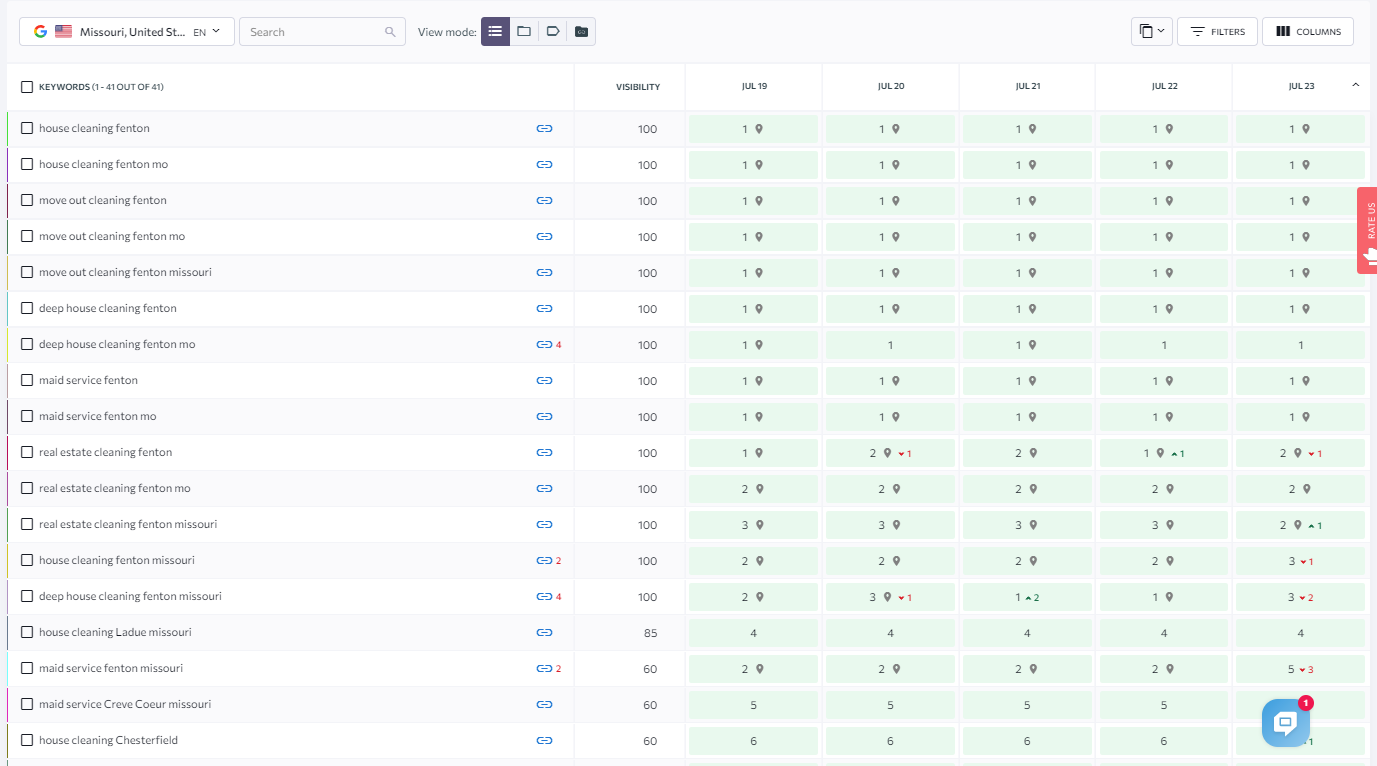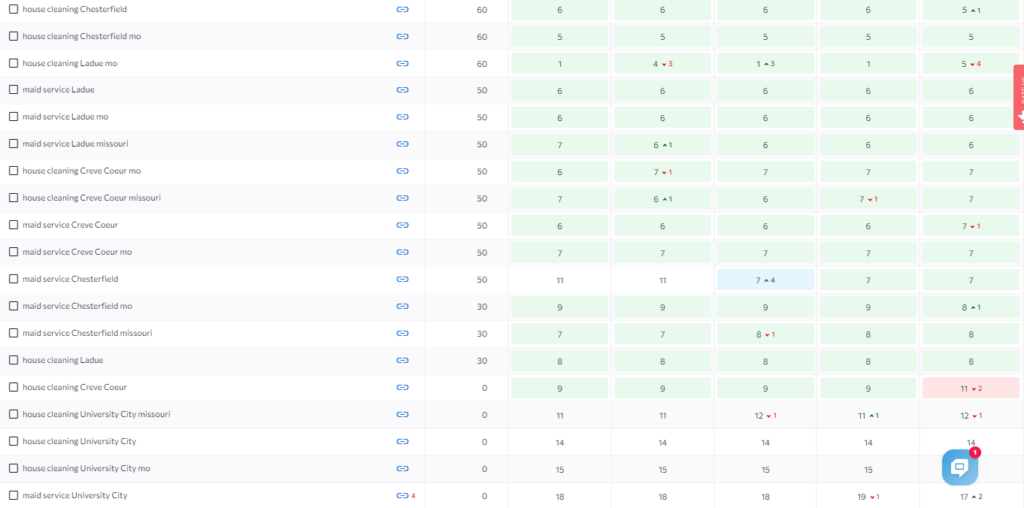 Cleaning Company near St. Louis, Missouri, USA – Page 1 for 31 keywords in Google. Optimizing for main city plus multiple surrounding cities of choice. The purpose is to rank in cities which align with the client's business model and chosen demographic areas. 🧹🧼🧽🚽

Construction Company in Salt Lake City & Park City, Utah – Page 1 for 10 keywords. "ADU" stands for accessory dwelling unit which are commonly referred to as "tiny homes" although there are other types of ADUs. Additionally, this client wanted to optimize for specific types of builds like "master bedroom additions" and "second storey additions". This client is raking it in as the profit on a single ADU alone is $30,000 to $60,000. ⚒️🏠💰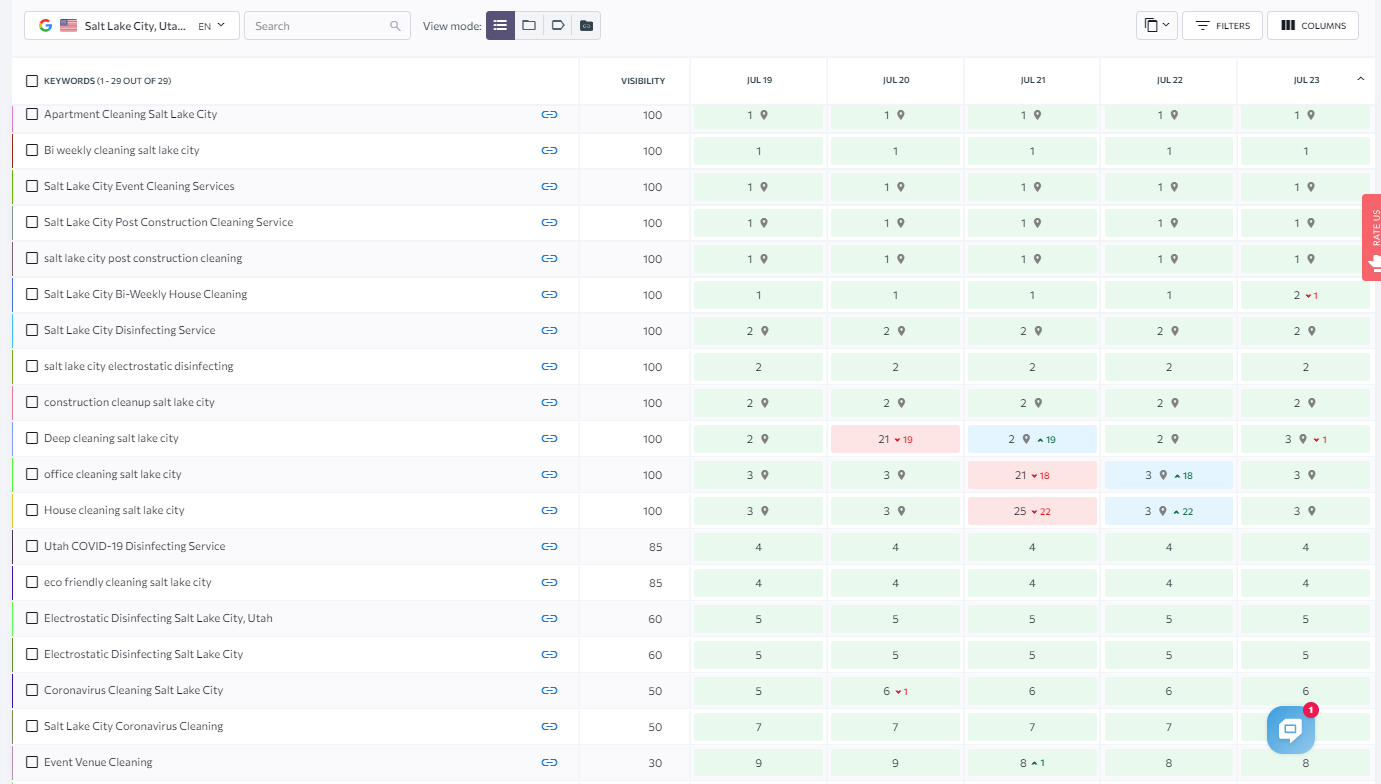 Cleaning Company in Salt Lake City – Page 1 for 20+ keywords. This company in Utah enjoys Page 1 of Google  rankings for keywords such as "house cleaning", "event cleaning", "electrostatic disinfection", "coronavirus cleaning", "recurring cleaning" and more.  🧹🧼🧽🚽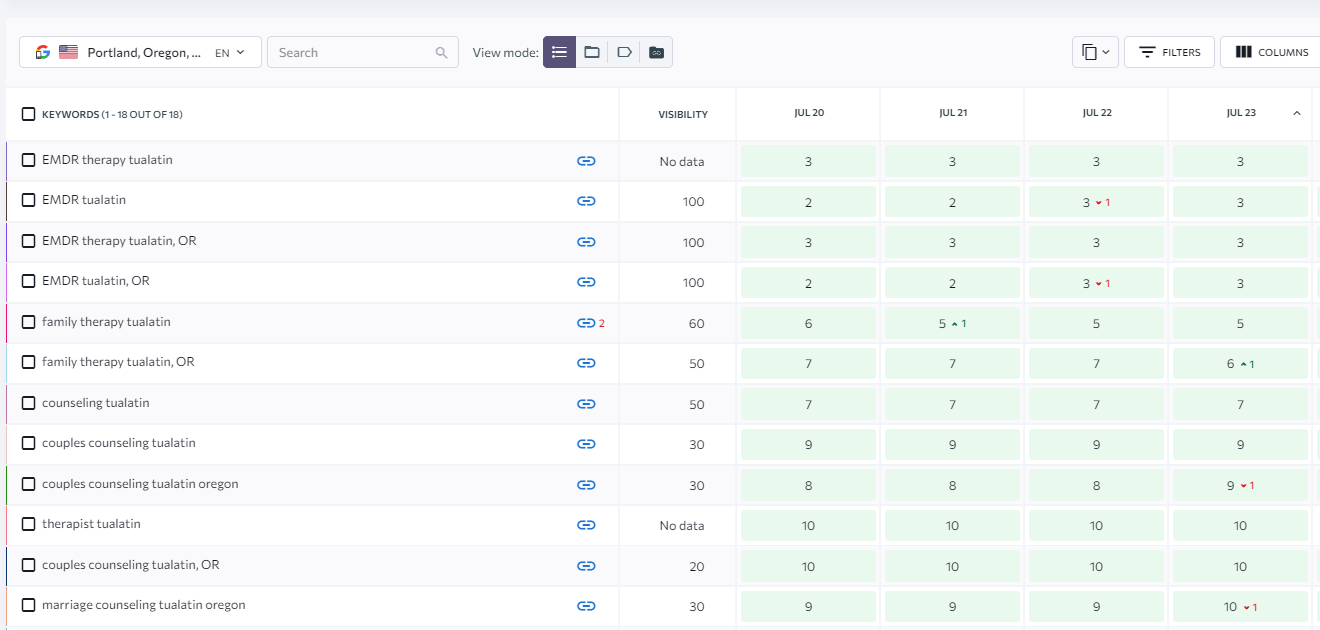 Mental Health Counseling Practice in Oregon – Page 1 of Google for over 10 keywords such as "couples counseling", "marriage counseling", "family therapist" and much more. They are dominating the therapy keywords in their area.  ​🧠​⚕️​👩‍⚕️️​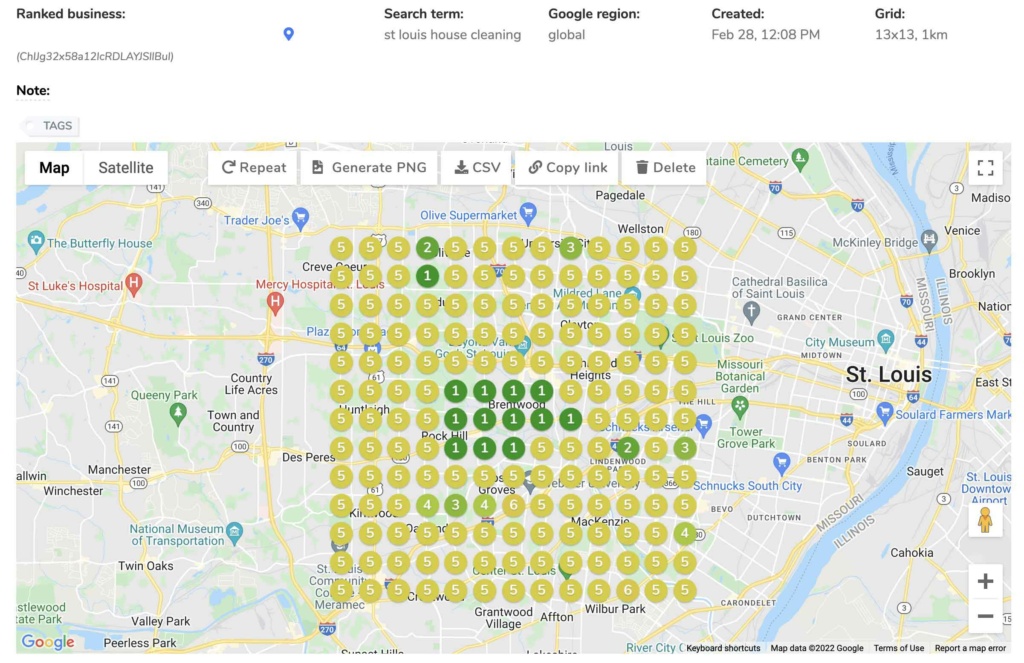 BEFORE  ☝️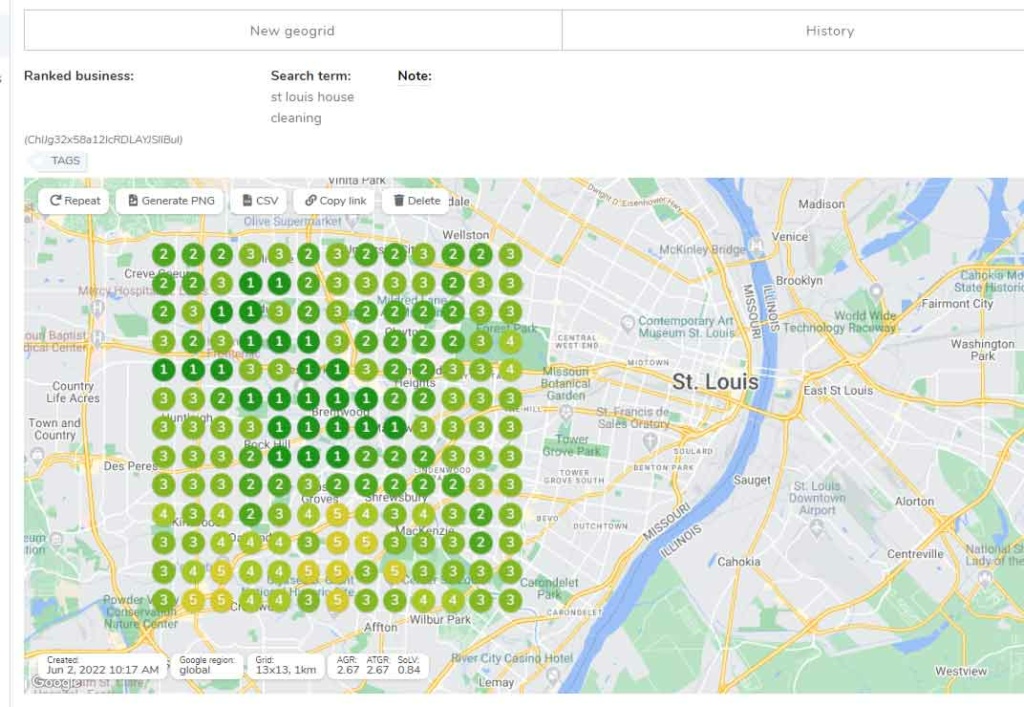 AFTER ☝️
Cleaning Company in St. Louis – Before and after rankings reports showing where they rank in Google Maps (Google Business Profile). The numbers 1 thru 3 indicated where they are in the maps "3 Pack" on Page 1 of Google. Other numbers indicate where they are down through 20+. The lower the numbers, the more they show up on Page 1 in maps for their chosen keywords, thus more phone calls in their surrounding areas. The client increased their reach throughout their chosen area!  📈🧹🧼🧽🚽
Need us to help your business grow?
👇👇👇👇👇

Testimonials & Happy Clients
Here are just a few testimonials from happy clients giving shout outs and updates about our SEO work. Being on Page 1 of Google keeps the phones ringing and leads coming in for many different types of businesses and services. It's the right strategy for anyone looking to expand and grow their business without having to put in all of them work themselves!
SEO Client in Fort Collins (click to enlarge)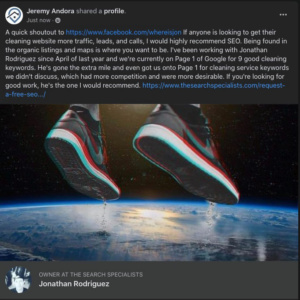 SEO Client in Australia
Another Happy SEO Client 👇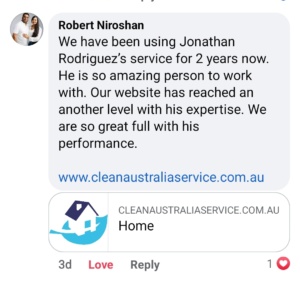 🙋🏻Are You Looking For Expert Help?🙋🏽‍♂️
Over the years I've had hundreds of clients who needed help in improving their online and offline businesses. ⭐Cleaning Companies⭐, medical spas, construction companies, attorneys, day spas, landscapers, HVAC, medical doctors,  pest control, electricians and more.
My goal is to be able to help clients see a return on investment as quickly as possible while making MORE MONEY than they're spending. This generally happens after the first newly acquired recurring client or job. Fair pricing combined with a genuine want to see my SEO clients succeed make me your best candidate for hiring a qualified marketing expert to be part of your success team!
So if you have a marketing budget, are looking to grow and are looking to take action, please click on the button below to fill out an form and I'll be sending you your FREE SEO evaluation. Let's make this year the best year ever for your business!
👇👇👇👇👇👇👇